LT-50
Jump to navigation
Jump to search
LT-50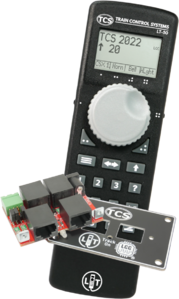 Device Information
Manufacturer
Train Control Systems
Type
Command Station
SKU
LT-50
Release Date
08-09-2022
Retail Price
$259.95
PSU
DC 15V/36W
The LT-50 "Layout Throttle" is an intelligently-designed wired LCC throttle with a built-in command station. Ergonomically designed to comfortably fit your hand and provide easy access to all of the buttons, the LT-50 is the perfect DCC command station for newcomers, or layout operators and builders looking for a highly-capable, portable command station and throttle. Like the CS-105, the LT-50 is overflowing with features, including RailCom® - but there's so much more it can do!
The LT-50 Layout Throttle from TCS is the new standard in utility for model railroads. This system brings a new level of operational convenience, as well as a wide range of new features compared to the competition. Instead of spending time with your head in a manual trying to understand your throttle, the intuitive interface of the LT-50 allows you to focus on the important things - operating and enjoying your trains! We are confident that the LT-50 will quickly become your favorite throttle to use.
The LT-50 features an encoder-style knob for easy menu navigation as well as speed control. Package includes two inter-change-able knob wheels.
Also included in the package is a 15V power supply, a single LT-50 fascia panel and fascia cover plate, screws for mounting the fascia board and plate, detachable track power connector, and a single RJ-45 cable.
Overview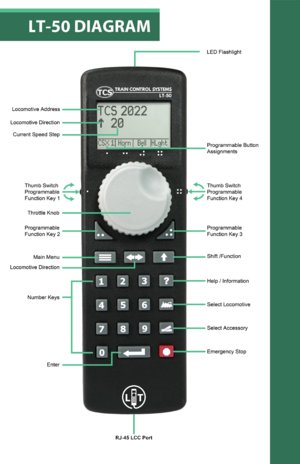 Large, Full-text Screen
1.42" x 0.92" LCD screen with white backlight. Brightness is entirely adjustable for a variety of operating conditions.
Programmable Buttons
The encoder button, two buttons on the face of the throttle, as well as two multi-position switches on the side (9 total) can be reassigned to control many functions. Examples include dynamic braking, manual notching, and more! Higher-numbered functions are now a simple button press or switch flick away!
Multiple Connection Modes
The LT-50 can be used as a standalone command station, but if connected into an LCC network, the LT-50 will act as a normal LCC throttle. For operators who prefer a wired throttle, the LT-50 can connected to a CS-105 to offer that wired throttle experience.
Integrated Consisting System
Consisting doesn't have to be difficult, intimidating, or complicated! The LT-50 features a simple consisting interface where users can make, modify, and break up consists in mere seconds.
Yard Mode
Yard Mode is an innovative, TCS exclusive feature designed for switching operations and control. Perfect for spicing up repetitive yard moves!
Full-Text Menus
Menus present all options in full words and phrases. No guess work or manuals needed!
Help Text
Use the [?] button on the keypad in any menu to access help text for that menu item. The throttle will display a simple description of the highlighted option. Help is always one button press away!
Flashlight
The LT-50 unit comes equipped with two bright white LED's that can be activated at any time - handy for those dropped screws, lost detail parts, decoupling, and ventures under dark, cavernous benchwork.
Specifications
DCC System
1.4A continuous, 2.8A peak current limit with soft start, configurable current limit, and load reporting
Up to 25 locomotives running simultaneously
Integrated RailCom® detector
Programming Track over main output with automatic switchover, supporting Direct, Paged, and Register modes
DCC accessory control for addresses 1 - 2044
Up to 20, 10-step Macros, including LCC accessory control
Configuration through on-screen menu
Throttle Features
Handheld design based on the lightweight and ergonomic UWT-50
Nine user-programmable buttons for convenient operations
Encoder knob for throttle control and menu navigation
Plain English configuration through menu
On-sceen help function
Can be used as a throttle on LCC and NCE layouts
NMRA Layout Command Control (LCC) Features
LT-50-specific RJ-45 jack (1x)
RJ-45 jack for LCC communication through CAN-bus (3x)
Expandable with additional LCC throttles (sold separately)
400ma LCC power injection points (2x)
Low-power DCC passthrough (optional with configuration)
Configuration through CAN-bus interface to PC (sold separately)
Firmware updates via LCC interface
Maximum Number of Locos
The nominal current limit of the LT-50 is 1.4A continuous. The LT-50 will shut off automatically once a set thermal cutout is reached, and will automatically resume once it has cooled down. Below, we have included a table for some examples of exaggerated load values which can help you determine approximately how many individual locomotives you can operate simultaneously. Note that you will likely be able to run more than the specified Maximum. Your loads/results will vary.
Maximum Number of Locos You Can Run Simultaneously with the LT-50

| Loco Scale & State | Typical Current Draw | Maximum Loco Count |
| --- | --- | --- |
| (All Scales) Idle/Stationary | 0.05A - 0.10A | 15 - 25 |
| (All Scales) Idle/Stationary With Sound | 0.15A - 0.25A | 5 - 10 |
| (N) Under Heavy Load | 0.15A - 0.35A | 5 - 10 |
| (N) Under Heavy Load w/Sound | 0.30A - 0.50A | 3 - 5 |
| (H0) Under Load | 0.25A - 0.75A | 3 - 6 |
| (H0) Under Load w/Sound | 0.35A - 1.00A | 2 - 4 |
Related