LCC Throttle Panel
Jump to navigation
Jump to search
LCC Throttle Panel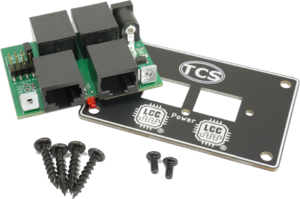 Device Information
Manufacturer
Train Control Systems
Type
Fascia Panel
SKU
1598
Release Date
08-09-2022
Retail Price
$24.95
PSU
DC 15V/36W
(Optional, not Incl.)
This product is an expansion panel for an LCC network, such as those created and used by the CS-105 and LT-50. Use this product to expand the number of wired throttles such as the T-50 you can connect to the TCS command station, or to provide an access point for other LCC devices distributed around your layout.
The LCC Throttle Panel also includes a jack you can use to connect a Power Supply to power the LCC bus. (Not Included)
Included In Package
LCC throttle panel board x1
Fascia cover plate x1
Fascia mounting screws x4
Fascia cover plate screws x2
Physical Overview
The LCC Panel has a few notable physical features:
2.5mm x 5.5mm barrel jack for LCC Power In
Configuration Jumpers (see details below)
Four "LCC" RJ-45 jacks (2x Front: For T-50; 2x Rear for LCC Bus)
Red LED for LCC Power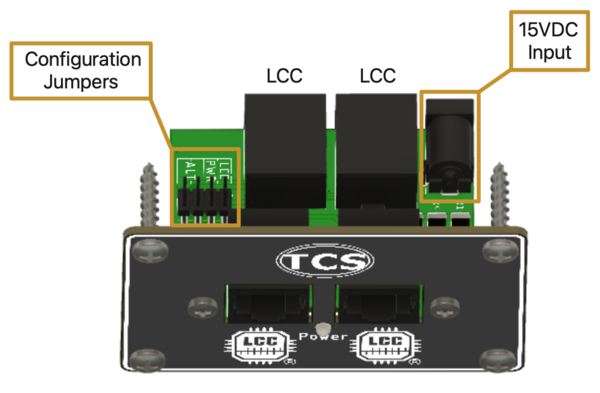 Configuration Jumpers
Refer to the table below for information on the configuration jumpers available on the LT Panel:
Jumper Position
Description
(1 & 2) LCC PWR
Insert these two jumpers in order to pass LCC power through the panel. The front facing LCC jacks are powered from the LCC bus passing through the back.

Remove these two jumpers in order to inject power into the LCC bus from an external 15VDC power supply. The front facing LCC jacks are powered from the external power supply.

(3 & 4) ALT

Insert these two jumpers to pass the low power "ALT" signals through the LCC panel (pins 4 & 5 of the LCC-CAN standard).

Remove these jumpers to disconnect the low power "ALT" signals from passing through the panel. Most users should install these jumpers. See a simplified circuit diagram to the right:

Note: The LT Panel uses the NMRA S-9.1.2 Full Scale Interface


ALT is a low-power mirror of the track output from the command station (in most cases).

This circuit is only intended to be used to pass the signal throughout the panel to other connected devices on the LCC-CAN.

This circuit is not intended to daisy-chain signals to LCC boosters such as the B-106. This should be done directly.

This circuit must be disabled/open if you plan to use an LT-50 as a tethered throttle with a CS-105 also connected to this panel.